Manage your ranch from anywhere.
RanchSense helps landowners and ranchers oversee their property from anywhere in the world by sending up-to-date ranch conditions directly to their devices.
Contact Us
Call Us
Ranching is hard work, but it's easier if you have RanchSense.
We're on a mission to free up landowners' time so they can better steward their land, care for their animals, and provide for the recreation of the people they love.
We use technology to eliminate repetitive ranching tasks, giving you time back to focus on your true priorities.
See What We Do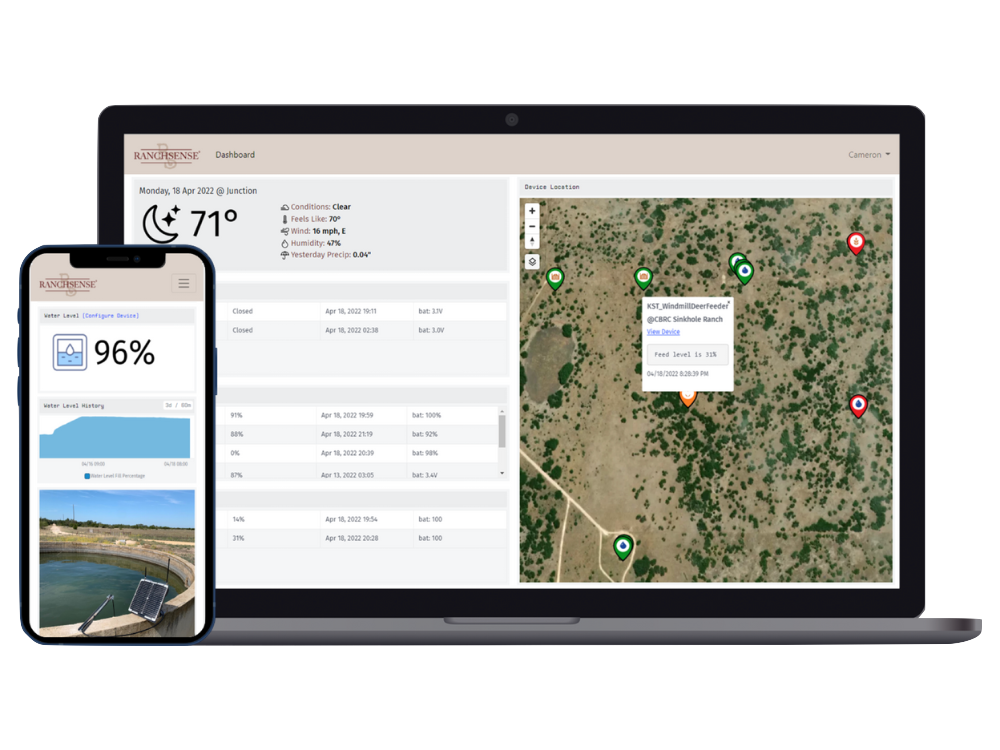 What our customers say
Monitoring rough country water storage used to take more than 2 hours. With RanchSense, it takes about 3 minutes! That gives me more time to spend on other tasks around the ranch.

Dakota Holmes

Manager at Happy Cove Ranch | Alpine, TX
With RanchSense, I cut my time bouncing around rough roads in half. Plus I spend less for maintenance and repairs on my vehicles.

Ethan Furr

Manager at High Lonesome Ranch | Kent, Texas
I love that I can wake up in the morning and know that there is a full water tank at the North Mill, which is 60 miles aways. Before RanchSense, I only got that info if I drove all the way out there.

Hugh Childress

Block Y Livestock | Ozona, TX
We used RanchSense to track down and fix leaks in water supply lines and troughs, and now our water supply stretches much further.

Worth Puckett

Manager at Calamity Creek Ranch | Ft. Davis, TX
Find out if RanchSense is right for you.
Give us a call to learn more about how RanchSense could help on your land. You'll speak with a helpful & humble fellow rancher - not a pushy salesperson.
Contact Us
Call Us